Karel Ludwig (1919 - 1977) © Archiv B&M Chochola
Women photographs Art photographs The Prague uprising Portraits of personalities
Biography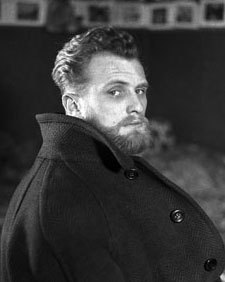 1919 - born in Prague on the, 27th of September. His parents originally worked in his father's native region (the Jeseník promontory) for Count Harrach as gamekeeper and chamber - maid.
1930 - he studied at the upper secondary school in Prague - Vinohrady. Later he studied at the school of commerce and also privately at the English Institute in Prague and passed the state examination in English and German. For a short time he worked in a shop with sports equipment as shop assistant.
1937 - he went to Zlín with the aim to take a managerial
course at Baťa's business school, an American-style, course for Baťa's young boys". Within two years he passed from manual labour to the tyre-production line, then he worked as an interpreter, and finally as an editor in the publicity department of the Zlín magazines. Here he learnt lay-out techniques and passed through courses for typographers, make-up type-setters and proof-readers. At that time he thought of photography as a recording of information.
1938 - he started publishing departmental photographic reportages, as well as recent events and illustrations to articles. The first publicity shots started to appear with his name. His photographs of models, taken mostly inexteriors, clearly manifest his feeling for modern, brief and elegant publicity.
1939 - he went to Prague.
1940 - Erich Kaizr, a school-friend and publisher's artist in the Melantrich, recommended Ludwig to editors in Prague and introduced him to the photographers Z. Tmej and K. Hájek. Ludwig and Tmej together moved into an apartment on the Dlouhá street, where the pho-tographs Négligé and Morning Toilet were taken. Less than a year later Ludwig sold the apartment at a loss, parted company with Tmej and started photographing with a Primarflex camera with makroplasma. He lived in the apartment of his girlfriend Jiřina Vavrečková, who supported him. He found room to work at the Amateur Photographers' Club in the Nekázanka and started publishing in the Prague illustrated magazines Zdroj, Ahoj, Sobota, Salon and others.
1941 - at Melantrich he cooperated with.Dr.Štorch-Marien, together they edited the publication Woman, the Everlasting Inspiration of Art. Zdeněk Tmej arranged with the press editor of the National Theatre, Jaroslav Procházka, that Ludwig photographed for the press service of the National Theatre. Thus ensued portraits of the prominent singers of the Talich era in the opera of the National Theatre, as well as of rnembers of the Frejka drama company - M. Glázrová, M.Burešová, N. Vladyková, S.Strobachová, V. Podrabská, M. Vášová, V.Fabiánová. With Tmej's assistance he photographed them in an improvised studio, one of the theatre's rehearsal rooms. Ludwig started cooperating with the editors of the magazine Praha v týdnu, and this not only as a photographer, but also as the author of articles of discussion. At the theatre he got into situations of conflict and despite his succes there, he was recalled.
1942 - he was editor-in-chief of the magazine Praha v týdnu and also cooperated with a number of young and promising artists (Z. Seydl, E. Kaizr, photographers Z. Tmej, M. Hák, V. Rozegnal, V. Chochola) and theorists
J. Kotalík, J. Chalupecký, J. Pokorný, Dr. J. Hlaváček, J. Raymoser). He became a member of the Organization for the. Protection of Czech Artists (later, in 1949, a member of the Association of Czechoslovak Artists). He had to leave his work with the magazine Praha v týdnu - in the oppressive atmosphere following the assassination of the Reichsprotektor Heydrich he printed allegorical titles and slogans, such as Do not forget the German soldier, Dr. Emanuel Vajtauer: Gangsters, When a Man Takes Over a Job the Job Takes Over the Man. He also had his personal base of activities in a attic room at the editorial office in the Vodičkova street, which he now had to leave. Occasionally he lived in V. Chochola's studio in the Soukenická street, where he helped in the photographic laboratory.
1943 - with the aid of his friend, the painter E.Kaizr, he ac-quired a ground-floor apartment (2x5 meters) in a Renaissance house on Valdštejn square in the Mean Town. At the intercession of E. Kaizr and film director Čáp with the president of the Czech Film Company Barrandov and owner of Lucernafilm, Miloš Havel, Ludwig again obtained a liberal offer - to establish a photographic publicity department at Lucernafilm. Ludwig became its chief, he himself elaborated the conception of the photographic laboratory and photo-graph archives, and in the Lucerna arcade he built a base for perfect film publicity. He had perfect working and technical conditions for his work and worked with Z. Tmej, V. Rozegnal and others.
1944 - He got married to the actress Lída Matoušková, de-signed the adaptation of the Mean Town apartment, for which he paid 26 000 Czech Crowns. He wrote a screenplay, together with O. Štorch-Marien, he prepared the first collection of photographs Woman for publi-cation. This, however, was not realized.
1945 - from the 5th to the 9th of May he photographed the Prague revolution, the result of which was a unique collection of photographs from the Wenceslas and Old Town Squares. During a ride on a lorry the photograph Fraternization came into being. The sculptor Pokorný later gave the same name to his sculptural group. On the 10th of May Ludwig joined a repatriation mission to Germany, where he documented this devastated world and miserable people, again concentrating on women. Soon after his return to Prague he organized a second trip to Germany - on the 24th of June he accompanied the repatriation motorcade in a Packard car ( driven with wood-gas fuel) together with Mrázek, Tmej, Kaizr and Makovec. During a visit to the concentration camp in Bergen-Belsen all his photographic equipment was stolen from the car: his Primarflex camera, his 30 cm telescopic lens Contax, the 135 mm Sonnar lens and all the exposed films. The record of loss was made out by the Military Government in Belsen on the 27th of June 1945. None of the listed things were ever found. After his return to Prague the Soviet military authorities arrested his father, while his mother hid in the cellar. 1946 - local investigation by the district council took place concerning the "national liability of Karel Ludwig", the testimonial was signed by 8 witnesses on January 31st. .
1947 - in cooperation with the Czechoslovak Film Publishing Company he prepared his first monograph, and according to the plan of edition it was followed by a whole number of illustrated publications - K. Ludwig: Nudes, Portraits of Czech Actresses, Monograph of Z. Tmej, and together with Tmej the publication Town and the edition of world photographs.
1948 - critics attacked the realization and contents of Karel Ludwig's Photographs. The Czechoslovak Film Company was nationalized and subordinated to the Czechoslovak Film Industry. All Ludwig's plans lost their significance and Ludwig gave notice. The photographic department of Lucernafilm was disbanded.
1949 - he became one of the first members of the Czechoslovak Association of Artists (together with the photographers Sudek, Plicka and others).
1950 - he married Věra Chytilová.
1950-1954 - he cooperated with the Art Service.
1951 - Ludwig and Tmej received an offer to establish and lead a photographic publicity department of the Communist Party of Czechoslovakia. The first working meeting took place in the apartment of Rudolf Slánský. Several days later Slánský was removed from the function of general secretary of the communist party, arrested, and in 1952 condemned to death and executed.
1951-1952 - establishment of archives of portraits of sin-gers, conductors, composers and interpeters of the Gramophone Enterprises.
1951-1962 - cooperation with the Gramophone Enterprises and State Music Publishing Company.
1952 - permanent coworker of the magazines Kino, Czechoslovak Film, Film a doba and the foreign department of the Czechoslovak Film Industry. Work for the enterprises Jablonex and Koh-I-Noor, a calendar for Jablonex for abroad.
1953 - publicity work for the puppet theatre and cooperation with J. Trnka and the Czechoslovak Film Industry. When the film director J. Krejčík was shooting exteriors near Zlín for the film Frona, Ludwig did a portrait of its protagonist Carmen Farkašová - Hana Hegerová for the title picture of the magazine Kino. He worked with Jan Werich in the film The Emperor's Baker.
1954 - the apartmnent in the Mean Town was distrained, he let the architect Vyškovský have it, including the debts. He gave his permanent address as : The Chochola Studio, Rytířská 6, Prague 1.
1954-1956 - he lived in the flatlet of his girlfriend Olga Masopustová, together with her small daughter he went to the Ore Mountains to the gamekeeper's lodge of Kryštof Kolovrat. Temporary jobs in the forest, picking mushrooms and rowanberries was not only his source of livelihood, but also an escape from Prague, where he was regularly pestered by State Security agents.
1957-1958 - because of inadequate conditions for exacting work he refused offers from Artia and the National Publishing Company for Literatrure, Music and Art. He was without an apartment, workplace and financial means and applied for an apartment or studio at the National Council in Prague-Vinohrady. He lived with the sculptress Eva Krsková.
1958 - after the so-called reduction screening in the Association of Czech Artists only V. Hnízdo, K. Ludwig and V. Chochola remained in the section of photography (see the periodical Výtvarná práce 9/1958).
1962 - a mention of health problems (described below). Ludwig offered his entire archives of negatives, acquired at the end of the 2nd world war in Germany and in May 1945 in Prague, to the Prague Institute of History of the Czechoslovak, Communist Party in the Rytířská street.
1964 - deteriorating health. In a letter to his doctor hedescribed his psychic and physical problems: [....] I
am melancholy, I have states of extraordinary anxiety, fear to attend to especially unpleasant duties, to settle complicated matters, and if I do so, I am strangely agi-tated. I avoid meeting friends because I am reticent and don't feel well amongst people. When the weather changes I suffer pressure in my head, accompanied by defective hearing, depression and unhealthily increased brain activity, irritability and insensibility of the left side of my scull, by turns insomnia and heavy sleep, bad sight. I have suffered some of these symptoms at the change of weather since my youth.. / put this state down to my long-lasting failure to improve my living conditions, whatever the motives are. I have been fighting this state for already three quarters of a year, but such basic deterioration makes me anxious, particu-larly in the past 3 months when I had several severe attacks, connected with a loss of memory of sorts.
He again applied to the Association of Czech Artists for a studio and this time was successful. He was alloted a former bookbinding workshop, but did not have the means to adapt it to his needs.
1965 - he concluded an agreement with the publishers Naše Vojsko on the publication of his work on the events of 1945 in Prague, but it was never realized.
1966 - he underwent 4 months of treatment at the Institute for Alcoholics - Apolinář under Dr. J. Skála. During that time he joined various activities. He helped in the Institution's garden, photographed and organized his exhibiton there (the photographs were processed in the laboratory of the photographer Dagmar Hochová at her own expense). He decided to prepare a collection of photographs for the Mánes Club and implemented a project of donated works of art for the medical institution. But he did not concentrate enough on his problem, he did not absorb the process of treatment sufficiently, and after his stay at the Apolinář Institution ended, he had a relapse. However, during therapy he discovered literary work. He wrote his biography for the Institution's clinical notes and started writing stories, later called Mushrooms in Vinegar, in which he tells his life story in associatively expansive levels of time with a reflexive, sensitive visual sense for detail, place, environment, people and their moods. Ludwig presented himself as an able screenwriter and film director.
1967 - he photographed portraits of singers from the Semafor theatre in Prague (j. Suchý, N. Urbánková, M. Kubišová, H. Hegerová, Z. Buriánová and others), finished this work and went to the gamekeeper's lodge Zátor in Hostomice pod Brdy.
1968 - he stayed in the hunting lodge of the Czechoslovak National Forest Enterprises, literary activities.
1969 - under treatment at the psychiatric clinic of Prof. Vondráček. On the 9th of April he applied by letter to the social committe of the Association of Czechoslovak Artists for accommodation in the recreation home of the Czech Artists' Fund in Kadaň nad Ohří. He was again totally without means and the only prospect of income was the completion of his literary work. He received regular monthly financial support from the Association of Czechoslovak Artists.
1970-1975 - he stayed with friends at a cottage in Šebečice.
1976 - on November 1st he was hospitalized in the cervical ward of the Bulovka hospital.
1977 - on the 4th of July Ludwig died in the Bulovka hospital at the age of fifty seven.
An observation made by Z. Tmej: He died a tragic death -admittedly of cancer, but as if in consequence of his life.
Publication Activities
1948 - Karel Ludwig's Photographs, Czechoslovak Film Publishing Company
1960 - Fifteen Mays, Čs.spisovatel. It was in Europe, Čs.spisovatel
Ludvík Aškenázy, Black Box, Mladá Fronta, Prague
1961 - Jan Řezáč, Josef Prosek: Memory in Black and White; Artia Prague
1963 - Jiří Trnka: History of the Author and His Works
1964 - Orbis Pictus, Mladá Fronta, Prague
1965 - L. Baran: Portrait in Photography, Orbis Prague
1967 - A Nude in Czech Photography, A collection of 15 picture postcards, Orbis Prague
1975 - Czechoslovakia 1975, a collection of picture postcards
1980 - Collection of 12 Photographs, text by V. Chochola and L. Baran, vol.4, Pressfoto Prague
Periodicals
1939 - Zlín, a magazíne of Baťa's co-workers, Deník Zlín, vol. 22, No. 20 - 33
1940 - Zdroj, e.g. No. 24, 28, 29, 41, Ahoj, vol. VlIl, e.g. No. IO, 30, 34, Jas No. 45
1941 - Zdroj, No. 41,50, 51, 54, 58 - 61, Ahoj, vol. IX, No. IO, 30, 37, 46, Hvězda českých paní a dívek, No. 29, 33, Prague lllustrated Bulletin No. 31, Pestrý týden, No. 40, 45, 50, 52, Praha v týdnu, Nos. 48 - 52 (in No. 50, page 1: author's reflection: The Problem of Photography as an Art\, Salon, No. 1
1942 - Praha v týdnu, Nos. 1, 3, 9-12, 16, 18, 22, 26-31, 38, 40, 42, 44, 46, Zdroj, Pestrý týden, No. 2, 6, I0, Prager lllustrierte Wochenschau, Nos. 28, 35
1944 - Kinorevue, e.g. vol. X and XI, Nos. l - 4, 6, 9, IO, II - 19, Pestrý týden, Nos. 30, 49, Zdroj, No. 126
1945 - Svět v obrazech, No. 23, Kinorevue,vol. lX, No.ll
1946 - Sobota, vol. I, Nos. 5, 8, IO, 14, 23, 27, 33, Kino, vol. I. Nos. 1, 3, 9, II
1947 - Kino ,vol. II, No. 3, 5, 7, II, 13, 15, 17, 19, 21, 23, 27, 31, 33, 35, 37, 39, 41, 43, 45, 49, 51, Svět v obrazech, vol. III, No. 51, Vlasta, vol. I, No. 40
1948 - Kino, vol. III, Nos. 13, 14, 19, 20
1954 - Kino No. 1
1957 - Kino, vol. XIII, No. 4, Der Tschechoslowakische Film, vol. VlIl, Nos. 1, 2, 3
1958 - Kino, No. 4
1960 - Osvětová práce, vol. XIV, No. 9
1965-1966 - Literární noviny
1967 - Mladý svět, vol. IX, No. 1, Svět v obrazech, volume XXIII, No. IO, 15, 34,
1970 - Signál, vol. VI, No. 25
Other illustrations of publication activities are also given in mainly the posthumous literature about the author.
Literature
V. Chochola: About Karel Ludwig, RF, 1980, No. 2
V. Ambrož: K. Ludwig, Final theoretic work at the Film Academy of Art, 1986
D. Mrázková, V.Remeš: The Paths of Czech Photography, Mladá fronta, Prague, 1989.
L. Souček: Ten Minutes with K.Ludwig About Nudes, ČF 15/1964, No. 1, page 6
J. Boček: May 1945 Seen by K. Kudwig, ČF 16/1965, No.5, page 168
A. Dufek: Photograph collection of the Moravian Gallery in Brno, K.Ludwig, ČF 7/1978, p.301
K. Dvořák: Transformations and Horizons, CF 7/1970, p.301
K. Dvořák: The Face of Czech Photography -K.Ludwig, ČF IO/I970, p.438
K. Dvořák: From the Notebook about K.Ludwig, manuscripts September 1979, RF 24/1980, No. 1
K. Klaricová: Czech Photography I, Bratislava exhibition catalogue 1984
A. Hoffmeister: lntroductory text to a private viewing - Spring 1945, Čs. spisovatel, manuscript, Prague 12.4.1961
V. Chochola: My Friend K. Ludwig, Pressfoto, Prague 1980
V. Chochola: To the exhibition of K. Ludwig - 1919 - 1977
K. Klaricová: K. Ludwig, Catalogue of the exhibition in the Regional Museum in Kolín, Kolín 1979
K. Klaricová: A Study and Genre Photograph from the Forties, Catalogue for the exhibition in the Museum of Applied Arts, Prague 1980
V. Birgus: The Bitter Years, 1939 - 1947, Exhibition catalogue, Prague Castle Administration, Institute of Creative Photography, Opava, 1995
(RF= Photographic review, ČF= Czechoslovak Photography)
Ludwig's Own Texts
The Problem of Photography as an Art, Praha v týdnu, vol. II, No. 50, 1941
Interview with Bedriška Seydlová, Zdroj 50, 1941, p. 457
Slandering Film Directors, Praha v týdnu vol.II, No. 3, 1942, p. 10
Exhibitions
1953 - Jiří Trnka on photographs by K. ludwig, Theatre of Music, Prague The Works of J. Trnka (in cooperation with the graphic artist J.Fišer, Čs. spisovatel) Czechoslovak Film, foreign travelling exhibition
The Works of Karel Zeman and Hermína Týrlová,Theatre of Music, Prague
1960 - Spring 1945 in Photographs, J. Fučík Pavilion, Prague
1961 - Spring 1945 in Photographs, Gallery Čs. spisovatel, Prague
1966 - Collection of Photographs, Mánes Club. Medical Institution for Alcoholics (realization D.Hochova), Prague
1975 - Czechoslovakia 1975, foreign travelling exhibition
1979 - Karel Ludwig 1919 - 1977, Kolín
1980 - Chochola, Ludwig, Straka, Tmej: Photographs From the Forties, Museum of Applied Arts
1984 - Czech Photography I, Bratislava
1988 - Karel Ludwig 1919 -1977, Melantrich Gallery, Prague (realization V. Chochola)
1989 - Czech Photography, Mánes, Valdštejn riding -school
The Stone Bell House, Brussels pavilion, Prague ( exhibitions on the occasion of the I50th anniver-sary of the invention of the photograph)
1995 - The Bitter Years 1939 - 1947, Prague Castle, repeated in Opava, Ostrava, Edinburgh and London
1996 - Retrospect, Biennale of International Photography, Greece, Skopelos.
Representation in Collections
Museum of Applied Arts, Prague, Czech Republic, Moravian Gallery, Brno, Czech Republic Collection of Czech Photographs of the Association of Czech Photographers, Prague, Czech Republic National Central Archives, Prague, Czech Republic The Anne and Jacques Baruch Collection, Chicago, USA Victoria and Albert Museum, London, England. In private collections in the Czech Republic and abroad.
Publishing of content, photographs or other segments come under copyright law and is restricted without authors agreement
http://www.vaclavchochola.cz, Author © Archiv B&M Chochola